In 2013, the documentary, "Breaker Morant the Re Trial" was made for Foxtel's History channel.  Notwithstanding the success of the film, it became a defining moment in the history of the case for a judicial inquiry.  James Unkles had the privilege of interviewing a number of leading Australians who had studied the evidence that Lieutenants Morant, Handcock and Witton had not been afforded due process, investigated, tried and sentenced according to law of 1902.
The Australians interviewed for the documentary were:
Geoffrey Robertson, QC, international and respected jurist and human rights lawyer;
Robert McClelland, former Australian Attorney General;
Alex Hawke, MP;
Greg Hunt, MP, Minister for Environment and Heritage;
Tim Fischer, former Deputy Prime Minister;
Sir Laurence Street, former Chief Justice for NSWs;
Gerald Nash, QC;
Alexander Street, SC, now Federal Court Judge;
David Denton, QC;
Dan Mori, lawyer and former Officer, USMC (now resident in Australia).
These distinguished individuals were interviewed and were unanimous in their views that this case needs independent and transparent review by a judicial inquiry.  Extracts of their interviews appear on the site, breakermorant.com and the word transcripts are attached to this blog post.  They make compelling viewing and reading!
I am of the view that the opinions of those interviewed make a faultless case for an independent inquiry so this controversial case can be put to rest!
James Unkles with Greg Hunt, MP                  James Unkles & Tim Fischer,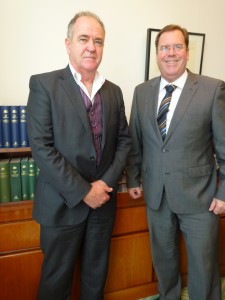 James Unkles with Robert McClelland, MP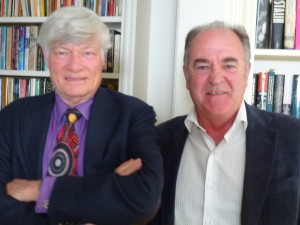 James Unkles interview with Geoffrey Robertson, QC