Transcript – 12.02.18 – PMB – Morant, Lieutenant Harry 'Breaker'; Handcock, Lieutenant Peter; Witton, Lieutenant George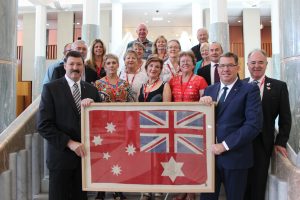 Descendants and advocate, James Unkles pictured at the House of Representatives 12 Feb 2018.  MPs, Mike Kelly and Scott Buchholz proudly display the flag that covered the grave of Morant and Handcock, the flag recovered from the tip at Tenterfield!
The transcript link from Hansard is above:
The Australian newspaper published two articles on 10 February 2018.  My opinion  piece (attached),  summarizes why this case must be resolved after 116 years of denial by the British Crown about the serious errors made in the trial and sentencing of these men.
There were fatal flaws in the arrest, investigation, trial and sentencing of the accused and unsafe convictions resulted. I have used the historic process of petitioning the Crown for the exercise of the royal prerogative of mercy. I remain committed to having this matter examined and justice delivered posthumously so that defence counsel, Major Thomas' work can be completed and the descendants of these men can rest knowing that Morant, Handcock and Witton served the Crown in a manner that deserves honorable recognition. I have lobbied Australian politicians and have support of MPs including Greg Hunt and Alex Hawke, Scott Buchholz, MP, Kevin Andrews, MP, Tim Fischer, former Deputy PM and senior lawyers, including noted human rights lawyer, Geoffrey Robertson QC and former Chief Justice of NSWs, Sir Laurence Street, QC and many others.
Morant, Handcock and Witton deserve posthumous pardons and an independent inquiry that will ensure that Major Thomas can rest knowing his calls between 1902 and 1935 for exoneration of Morant, Handcock and Witton has been achieved.  On 12 February 2018, a motion was passed in the House of Representatives that acknowledge the injustice and provided apologies to the descendants of these men. I am determined to secure posthumous pardons to bring this matter to a close.
The passing of time and the fact that Morant, Handcock and Witton are deceased does not diminish errors in the administration of justice. Injustices in times of war are inexcusable and it takes vigilance to right wrongs, to honour those unfairly treated and to demonstrate respect for the rule of law. How we respond to this case remains a test of our values and is vitally important to the descendants of Morant, Handcock and Witton and those who respect the rule of law and seek justice. In the eyes of Australian and the community a wrong is never diminished by the passing of time and it is our duty to put it right!
Wonderful development that the Australian Parliament has taken action, more to come!