27th February 2017 marked the 115th anniversary of the execution of two Australian Boer War volunteers, Lieutenants Harry "The Breaker" Morant and Peter Handcock, by a British firing squad.
It happened, not on a green veldt at sunrise as director of Breaker Morant, Bruce Beresford, would have us believe, but in the cramped confines of a courtyard at the Old Pretoria Gaol.
A third Australian, Lieutenant George Witton, had his death sentence commuted to life imprisonment.
They were convicted of shooting prisoners during the Boer War that took place between 1899- 1902, shattering Australia's "innocence" just a year after Federation.
Lord Kitchener, Commander-in-Chief of British forces in South Africa, delayed informing Prime Minister Edmund Barton that their trial lasted six weeks and Morant had admitted shooting prisoners.
That should have been the end of the matter except that returning Australian servicemen and the press challenged Kitchener's belated assurances.
Despite the severity of the crimes Witton was released after just 3 ½ years through the offices of future Governor-General, Issac Issacs KC, and future British Prime Minister, Winston Churchill, MP.
It is not disputed that Morant ordered the execution of twelve Boer prisoners while acting under the orders of senior British regular Army Officers, including Lord Kitchener.
Victorian lawyer James Unkles has been fighting for the best part of a decade for a posthumous pardon for Breaker Morant.
This may lead some to conclude that "natural justice" has been served, but why were they treated differently to other British officers and troopers guilty of the same crimes?
Prior to Morant's arrival at Ford Edward, in Northern Transvaal, six Boer prisoners, a Boer member of the Bushveldt Carbineers (BVC) and a number of natives were also shot in similar circumstances.
No charges were laid, even though clear evidence was presented to their commanding officers.
It is such discrepancies that convinced me that they were not afforded fair trials according to British Military Law and procedure of 1902 and it is time to offer Morant, Handcock and Witton posthumous pardons.
Serious legal breaches of Military Law began at the time of their arrest and interrogation in October 1901 and continued right through to their trial and execution on 27 February 1902. Of the many points of contention three stand out:
They were denied legal representation between their arrest and the day before their trial began in January 1902 when the luckless Major John Francis Thomas, a country solicitor from Tenterfield with no trial experience, answered a plea for assistance.
With no time to construct a defence and with key witness, Colonel Hall, Commanding Officer of the BVC, who could confirm the existence of orders to take no prisoners, spirited off to India, he mounted a brave but fruitless defence.
This failure haunted and ultimately destroyed him.
After having refused to appear when called as a witness by Morant, Kitchener denied Morant's controversial claim that he was only following orders when shooting Boer prisoners.
It was a valid defence in 1902. However, the unpunished actions of other BVC officers and a note in the casebook of British Judge Advocate-General, Colonel James St Clair tell a different story.
It reads: "… I agree with the Court of Inquiry. The idea that no prisoners were to be taken in the Spelonken appears to have been started by the late Capt. Hunt and after his death continued by orders given personally by Capt. Taylor."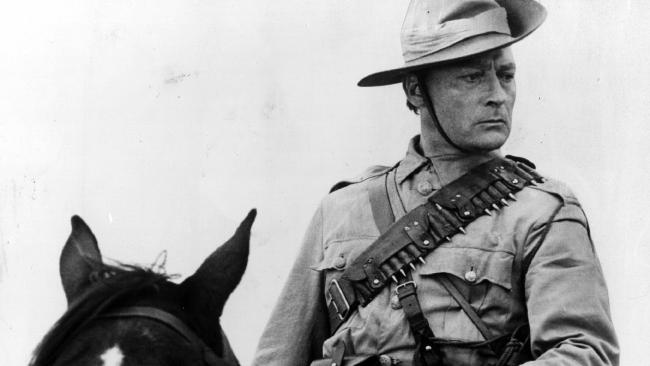 Actor Edward Woodward in a scene from the 1980 film Breaker Morant.
The Courts Martial members cited aspects of mitigation, for Morant, Handcock and Witton.
Recommendations were made that the three accused be spared death sentences.
However, only Witton's sentence was commuted. After confirming the death sentences on Morant and Hancock, Lord Kitchener left Pretoria and told his staff he was "uncontactable," thereby denying the Australians their legal right to appeal to King Edward VII and seek assistance of the Australian government.
This case has drawn the attention of senior Australian legal counsel and MPs.
Noted jurist and human rights advocate, Geoffrey Robertson QC stated: "They were treated monstrously. Certainly by today's standards they were not given any of the human rights that international treaties require men facing the death penalty to be given. But even by the standards of 1902 they were treated improperly, unlawfully."
Sir Laurence Street, AC, KCMG, QC, former Chief Justice of New South Wales, called on the British government to appoint an inquiry on the grounds that: "… this is an appalling affront to any general notions of justice, and an appalling injustice to the remaining living man. This was an exercise of the administration of criminal justice which sadly miscarried".
In 2010, the Australian House of Representatives Petitions Committee declared the case: "Strong and compelling and deserving of justice."
The then Attorney-General, Robert McClelland, agreed, but a petition to the Queen and submissions to the British Government were rejected.
How then to bridge this gap between Australia's realisation that something is badly wrong with this case and British intransigence?
Quite simply, appoint an inquiry and bring a bill before the Australian Parliament. That is the route followed by successful pardons granted to Canadian, Irish and New Zealand soldiers executed by the British military during WWI.
The old line that only Britain can grant pardons to Morant, Handcock and Witton is patently incorrect.
We should do it because Australia is an independent nation in control of its own destiny (and history) and because as Robert McClelland put it: "This goes to the moral values and fabric of a nation. We know these wrongs were done."
This will also bring relief to the families of Morant, Handcock and Witton, many of whom are now elderly.
They have been on an emotional rollercoaster since I began campaigning for pardons in 2009.
A compelling case for compassion has been made and we should use this anniversary to right this historical wrong.
The passing of time and the fact that Morant, Handcock and Witton are deceased does not diminish the possible errors in the administration of justice.
Injustices in times of war are inexcusable and it takes vigilance to right wrongs and address injustices to honour those unfairly treated and to demonstrate respect to the rule of law.
The descendants of these men and all Australians call for a fair go to have this case resolved.
James Unkles is a Victorian military lawyer who has been campaigning for the pardon of Breaker Morant and Peter Handcock.
http://www.adelaidenow.com.au/news/opinion/james-unkles-why-im-fighting-for-breaker-morant-to-be-posthumously-pardoned/news-story/adce6e8f1a125a953500b93467ad01de